Get Your Body Beach-Ready!
We know you want a perfectly even, natural-looking tan, so we provide our expertise every time you visit! Let our team of fully trained professionals assist you in giving your body a beautiful, beach-ready glow!
Try These Helpful Tanning Tips!
Moisturizing between tanning sessions is one of the most important things you can do for your skin. Ask us about our moisture products and take advantage of one of our spa packages, which will have you walking away with a bronzed body!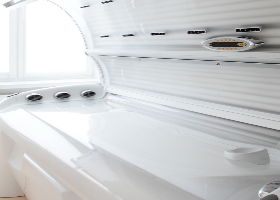 Indoor Tanning
Getting a tan at our spa is gentler on your skin than sitting in the sun's direct rays for hours on end. We value your skin just as much as you do!
When you visit, we take into account your skin type, and monitor how often and for how long you are exposed to our equipment. You can get a glow while still maintaining your health!
Tanning - Solar System
The secret of the stars. For years celebraties have used sunless tanning lotions to achieve the appearence of a healthy looking tan. The Solar Tan Booth is the latest in a natural looking tan without the use of UV rays.
Buy Gift Certificate  1 Session  $25.00
Buy Gift Certificate  3 Sessions $45.00
---
Tanning - UV
UV tanning available using the most up-to-date equipment with facial tanners.
Buy Gift Certificate  1 Session  $8.00
Buy Gift Certificate  10 Sessions  $35.00
Buy Gift Certificate  1 Month - Unlimited  $39.95
Buy Gift Certificate  3 Months - Unlimited  $99 with 50% off your first bottle of Tanning Lotion