Refreshing Facials
Let us clean, exfoliate, and nourish your skin, so you look and feel better than ever! Our expertly trained staff will provide high quality service to you, and make you feel pampered in our cozy and luxurious atmosphere!
Customized Care For You And Your Skin
When we give you a facial, we make sure that the products and techniques we use are exactly what is needed for your skin type and sensitivity levels. Ask us any questions you might have throughout the facial process!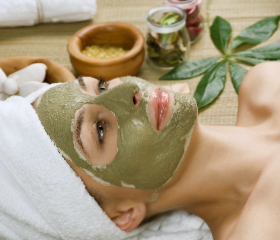 The Benefits of Facials
Facials offer many benefits besides being a very relaxing and even healing process. Ask our staff about the products they are using during your facial!
Getting a facial not only moisturizes the skin, but it increases your circulation, decreases signs of aging, alleviates sensitive skin and redness, and improves the texture and tone of your skin.
European Facial
A custom facial will be designed based upon an analysis of you skin. Softening, smoothing and balancing is ideal for men s well as women.
Buy Gift Certificate $60.00
---
Deep Cleansing Facial
It clarifies, purifies and rejuvenates. Demalogica products, matched specifically to your individual skin type, are applied while a skilled facial massage gives you a sense of rejuvenation deep below the skins surface.
Buy Gift Certificate   $75.00
---
Aromatherapy/Herbal Facial
The sense of total relaxation with a wonderful massage of face, neck and shoulders can make the feelings of stress totally disappear. The use of aromatic hearbs blended for your needs assure total relaxation.
Buy Gift Certificate   $65.00
---
Teen Facial
A Mini facial with deep pore cleansing to assist in the elimination of oil buildup on the skin. Also available with extraction.
Buy Gift Certificate $65.00
---
Back Facial
The back is always neglected. Enjoy a massage and masque to give a healthy glow to the skin.
Buy Gift Certificate $50.00
---
Contour Mask
You may add this to any facial or just experience it by itself. It is great for sensitive, mature skin and allergy prone skin. Reduces inflammation, creates a vacuum and forces skin to absorb beneficial serums and essential emollients.
Buy Gift Certificate $35.00 when added to Facial