Personalized Massages
Our massage services focus on your needs and aim to eliminate anxiety and pain. We just know you'll notice a vast improvement whether you visit us for half an hour, or all day long!
When You Talk, We Listen!
Every person's body and experiences are different, so we listen carefully to you and take into account all of your concerns. Let us know if you are in need of pain relief, stress relief, or simply a day of relaxation away from the hassles of regular life.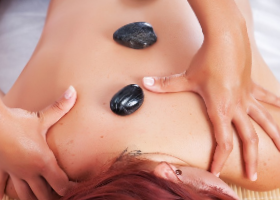 The Benefits of Massage
Most people know that a massage can heal aches and pains and also provide you with some much needed relaxation time, but there are even more benefits!
A massage can actually improve your posture, alleviate tension headaches, and improve your flexibility! Whatever your reason for getting a massage, we can give you the services you need.
Swedish Massage
Classic European massage technique promotes general relaxation, improves circulation, relieves muscle pain and tension.
---
Deep Tissue Massage
Appropriate for muscular imbalances due to chronic postural distortion or injury, and for muscles that have tightened from trama. Deep tissue work helps break the pain cycle and restore balance to the body.
---
Couples Massage
The perfect massage for you and your special someone. Two tables, two therapist, and the two of you make for a relaxing treatment to make any special day perfect. We frequently work with husbands and wives, mothers and daughters, sisters, and friends.
---
Hot Stone Massage
Hot Stone Therapy - warm basalt stones used to help create a healing response
---
LaStone Therapy Massage
Hot Stone Therapy - warm basalt stones & cool marble rubbed all over the body is the latest spa trend to bring about certain healing responses - something that has been done for countless eons.
---
Chair Massage
Feel refreshed and renewed with a productive chair massage. We also offer this for your employees on the job site.
---
Shiatsu
Based on traditional Chinese Medicine, shiatsu uses pressure and stretches to release blockages in the energetic meridians. Available in a traditional, fully-clothed floor session, or on the massage table.
---
Four Hands Massage
For the ultimate massage, two talented therapist use synchronized and complementary strokes to provide two hours worth of massage in an hour.
---
Hydrotherapy Massage
This relaxing treatment utilizes water jets to help stimulate circulation and soothe tired muscles.